There are three Retriever Clubs offering CKC approved field tests on Vancouver Island. The Vancouver Island Retriever Club, The Pacific Rim Hunting Retriever Club and the Upper Island Retriever Club. 
Only registered dogs, from breeds listed in the CKC regulations, may participate in these club's events.
To attend one of the Swallowfield training days you should be a member of one of the three sponsoring clubs - Vancouver Island Retriever Club ( VIRC), Salt Chuck Hunting Retriever Club, Pacific Rim Hunting Retriever Club.
A fourth club, The Salt Chuck Hunting Retriever Club, operates under the authority of the United Kennel Club. UKC registered "gun dogs" who can do the work may qualify in SCHRC events. For example, a UKC registered English Springer Spaniel or a German Shorthair Pointer, who could satisfactorily perform the work, could qualify at one of their trials.
Dogs entered in working certificate tests and hunt hunt tests compete against a standard. Any dog successfully completing the work earns a pass. Field trials however are competitive - there is a first place awarded and, potentially, a second, third, fourth and certificate(s) of merit.
Each club operates a web site and those intending to attend events as spectators or participants should double-check to ensure that the information with regards to time and place is accurate.
CKC Hunt Test Rules and Regulations
CKC Working Certificate Rules and Regulations
https://www.ckc.ca/en/Files/Forms/Shows-Trials/Event-Rules-Regulations/Working-Certificate-Test-Rules-and-Regulations-Eff
CKC Retriever Field Trial Rules and Regulations
https://www.ckc.ca/en/Files/Forms/Shows-Trials/Event-Rules-Regulations/Retriever-Field-Trial-Rules-and-Regulations-Effect
 Official UKC/HRC Rules for Hunting Retrievers
https://www.ukcdogs.com/docs/hunting/hunting-retriever-rulebook.pdf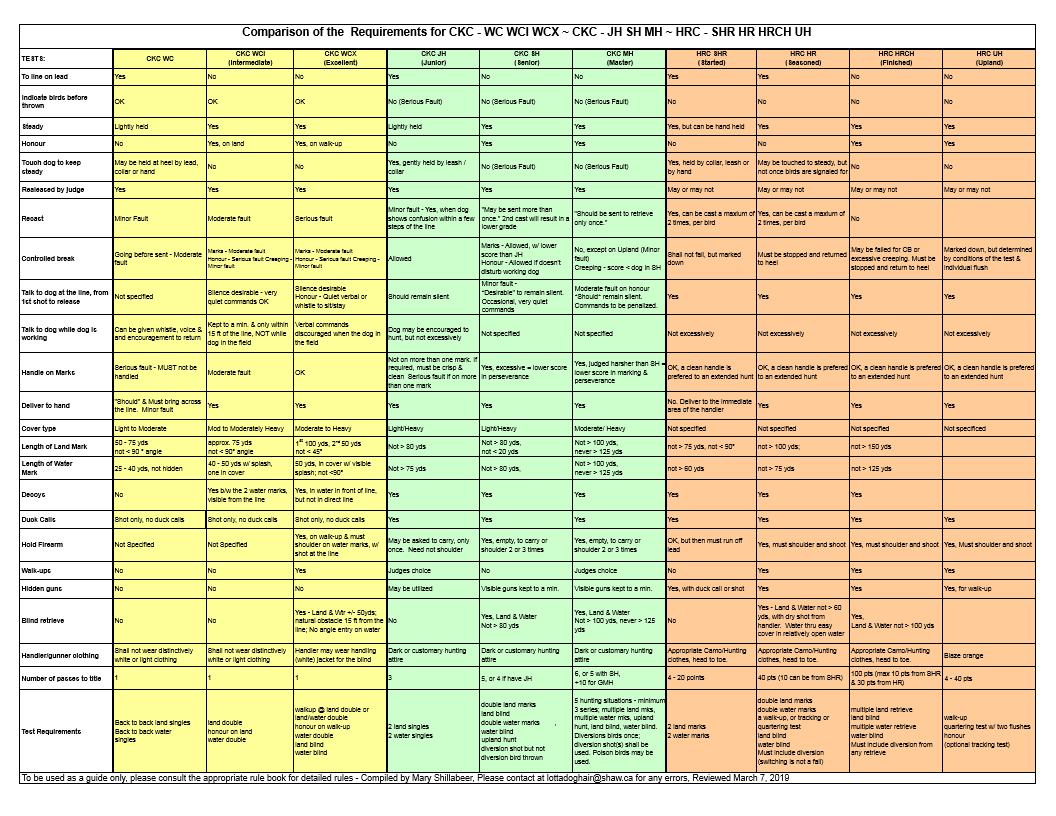 ***

Recommended Resource Materials For Train
CKC Working Certificate Test Rules and Regulations
Retriever Journal, bimonthly magazine (subscription includes access to web training link)
Water Dog, Richard Wolters
Retriever Training, Tom Dokken
Training the Upland Retriever, DVD, George Hickox,
Retriever Training Drills for Marking, James Spencer
Training Retrievers Alone with Dennis Voigt – booklet and DVD
Retrievers Online, Dennis Voigt, bimonthly subscription
Training Retrievers and Spaniels to Hunt 'Em Up, Arnette/Hickox
Retriever Trouble-shooting, John and Amy Dahl
The Ten Minute Retriever, John and Amy Dahl
The Working Retrievers, Tom Quinn
Hey Pup, Fetch It Up, Bill Tarrant
Equipment
Gonia whistle/lanyard
Retriever training "bumpers" or "dummies"
Bird buckets (3)
Birds – pigeons, chukar, pheasants, ducks
Blank gun/ammunition
Slip lead
Survey tape
Light coloured clothing/jacket
Holding blinds
Decoys
Duck call
Suppliers
Cabelas - Nanaimo, BC
https://www.cabelas.ca/find-a-store/nanaimo/12
Bass Pro Shops - Tsawwassen Mills Outlet Mall
https://www.tsawwassenmills.com/en/stores/athletic-shoes/bass-pro-shop/
Dakota Creek Retrievers
www.dakotacreekretrievers.com/
Zinger Wingers 
Training Areas
Beaver Lake Ponds Retriever training area
Jenning's Lane (when field cut)
Oceanographic Research Centre field (when grass cut)
CRD Park Duke Rd Metchosin (when grass cut)
VI Tech Centre (pay parking)
Terms
Line – place from which handler sends the dog
Line – most direct path to and from the area of the fall
Fall – place where the dummy/bird lands when thrown by a gunner
Area of the fall – general area close to where the bird/bumper lands
Pin – dog goes directly to the thrown bird/dummy and retrieves it without a hunt
Gunner – the individual assigned to fire a blank gun or blow a duck call and throw the bird/dummy upon visual signal from a judge
Mark – bird/dummy thrown by a gunner
Single – test consists of one thrown land or water mark
Back-to-back singles – two single marks, run individually but from the same line
Delivery to hand – dog carries the bird/dummy to the handler without dropping it and releases the bird/dummy only when instructed to do so
Slip lead – a leash restraint, without a collar, allowing the handler to easily release the dog at the line (dogs cannot be run while wearing a collar)
Holding blind – a visual block where the handler waits with their dog until called to line
Blink – dog goes to the area of the fall, finds the bird but refuses to retrieve it
Switch – dog goes to the area of the fall, hunts for the bird and, failing to find it, moves on to another fall
Pop – dog stops on the way to the fall and looks back at the handler for assistance or out of uncertainty
Quit – dog looks for bird/bumper but, failing to find it, leaves the area of the fall
Marshall – the club rep who ensures that handlers are sent to the line with their dogs in an organized manner, also acts as an intermediary between the Judges and handlers and ensures that the gunners
Test dog – a dog, not in contention, runs the upcoming test, in order to demonstrate to the handlers what the expectations of the test are
Number – one Judge will call the handler's assigned number, as a signal that the handler may release their dog, to go and retrieve the mark
Release command – verbal command that the handler utilizes to release his dog – usually the dog's name
Steady – dog is not restrained and does not leave the line for a mark until verbally released by the handler
Break – the dog leaves the line before being the Judge calls the handler's number
Blind – instead of a thrown mark, a bumper is placed in the field without the dog being aware of its location. The handler must then send the dog on as direct a line as possible to the bumper, utilizing hand and whistle signals to assist the dog to locate the bumper.
Diversion bird – while on its way back to the line with a retrieved bumper a gunner throws another bird, in full view of the dog. The dog is expected to ignore this bird and continue to return to the handler with the current bumper
Honour – a dog who has run the test must sit quietly at heel, in close proximity to the line, while the next dog runs
John Costello brings a wealth of knowledge to our club with many years of experience instructing training classes in Obedience and Field work, dedicating many hours instructing Field exercises to our club members. John actively participates in these activities and is also a member of other  training clubs.    
Spring is always just around the corner!
Jet (Brentwood Gem's Jet Black) has her CKC OTCH
John and Jet are now working towards getting Jet's X next year
Jet also has her MH (Master Hunter)
Labs are very versatile and fill many rolls
These photos show their ability to perform the work of a gun dog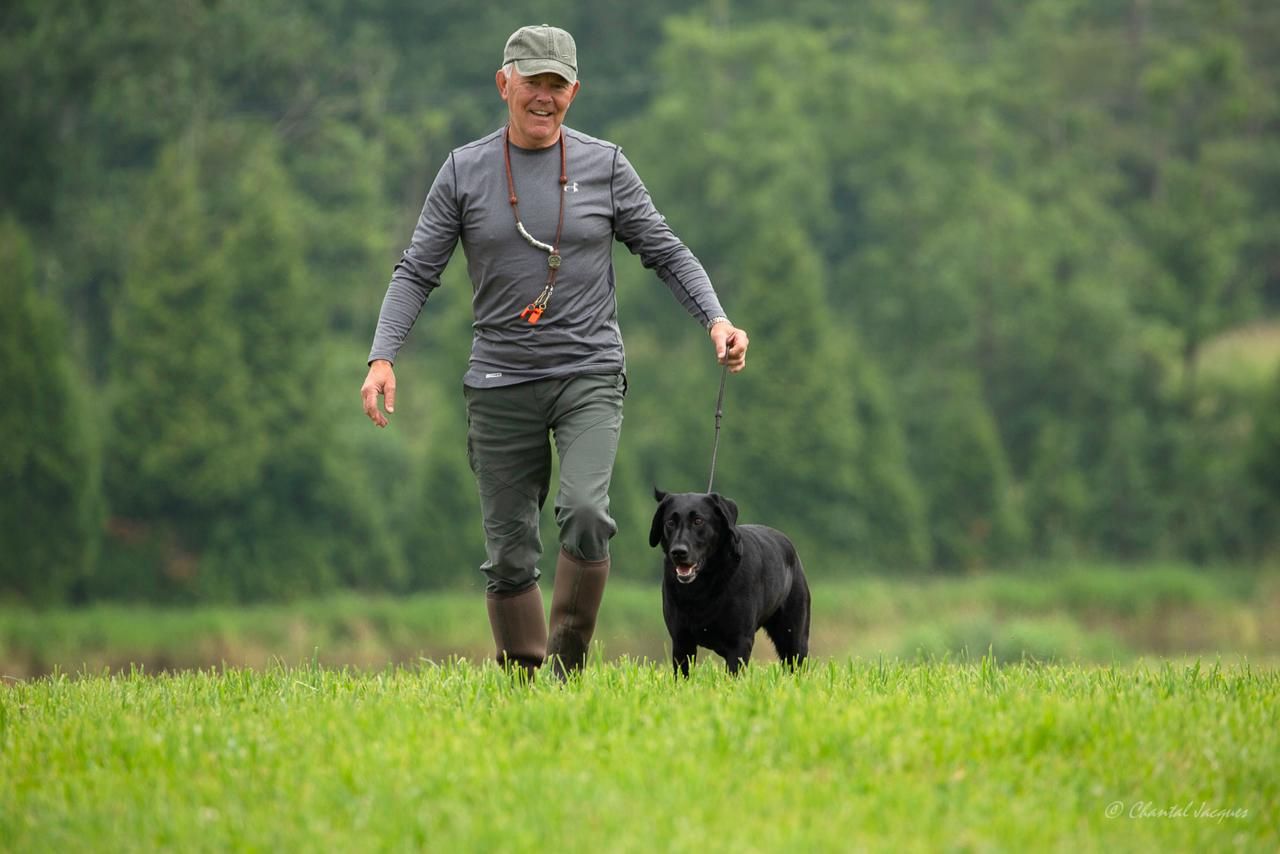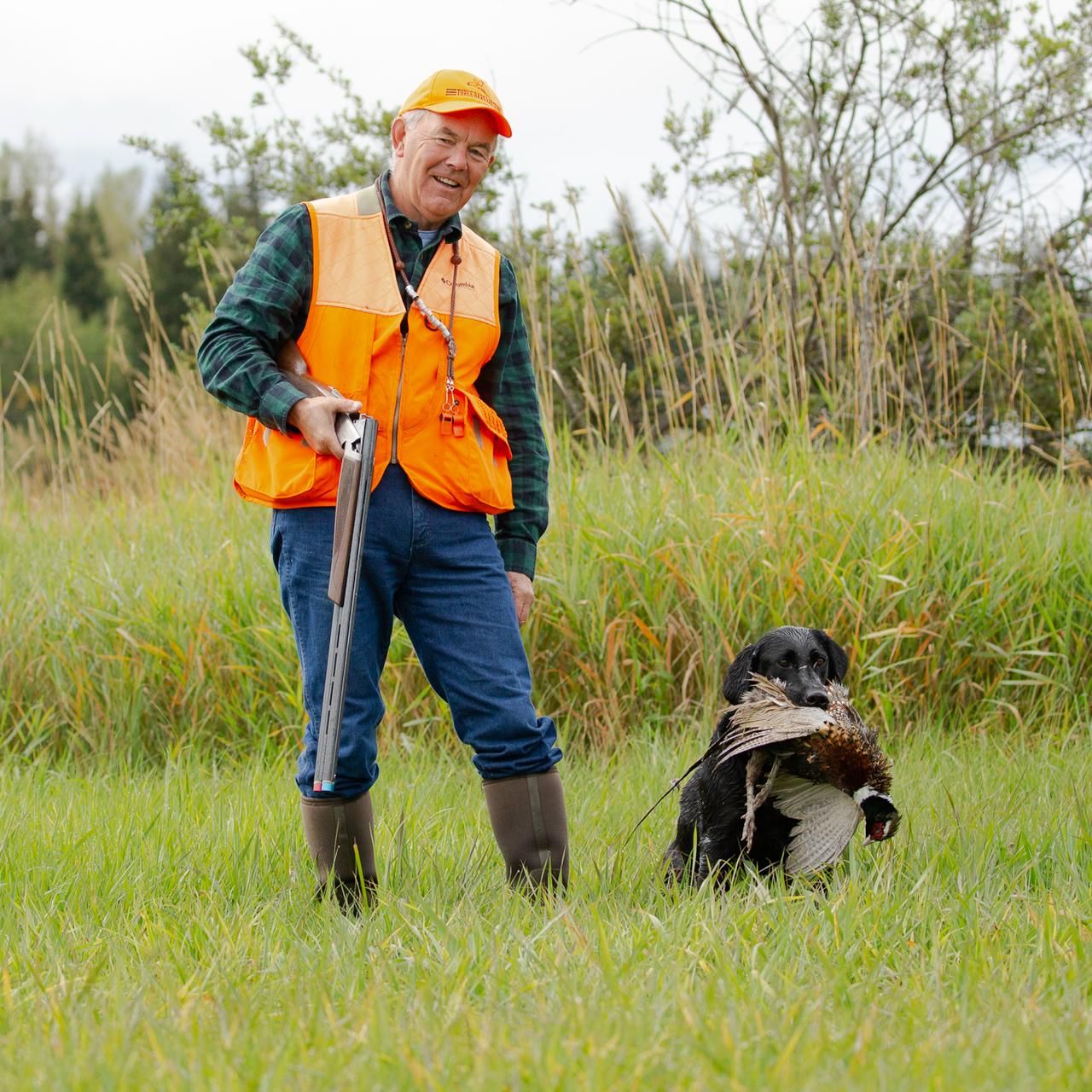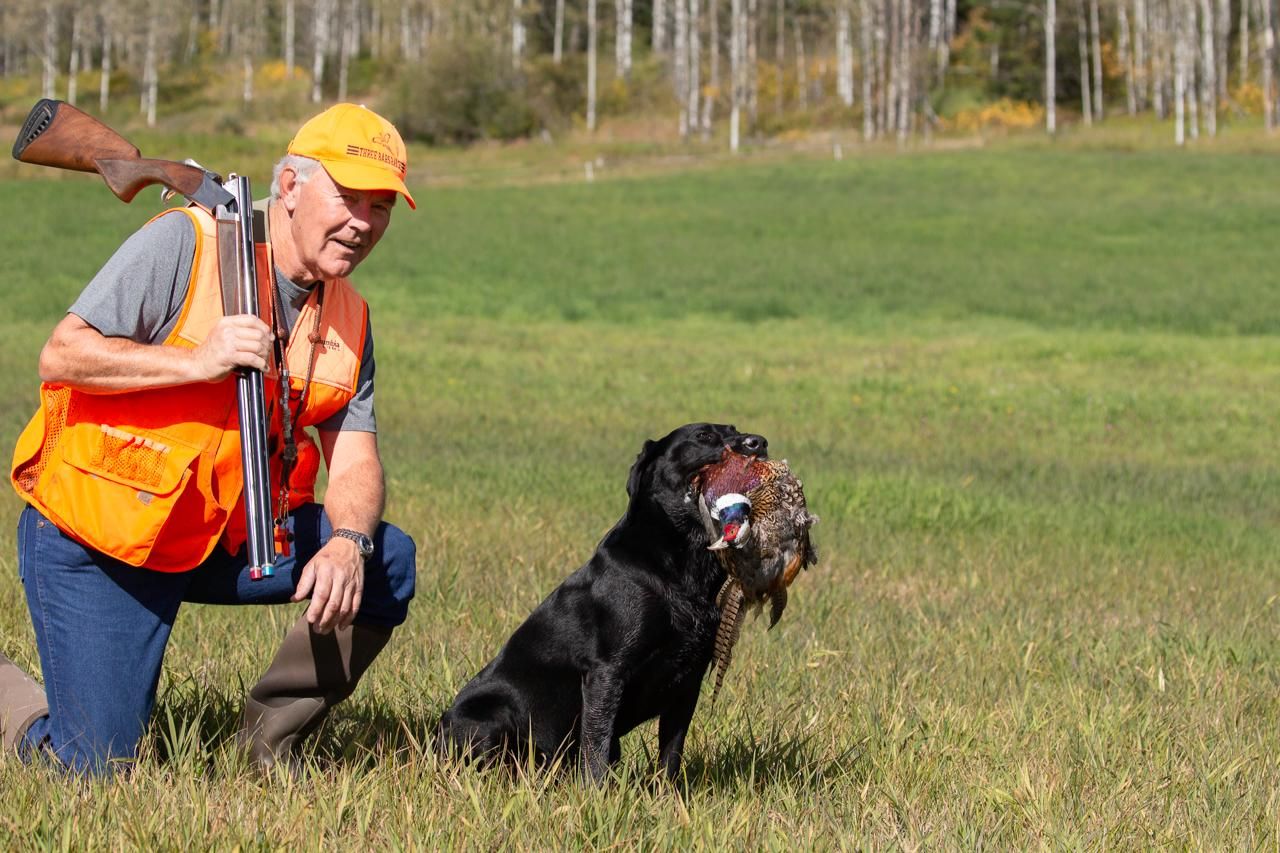 Photograpy by Victoria Photographer Chantal Jacques
 
click on the thumbnail to see info on photos